Pauline Lomas beat breast cancer, using no orthodox therapies and only non-invasion alternative therapies. She did it her own way.
For Pauline Lomas, life has truly been an adventure, including travels, love and Hollywood. Then breast cancer arrived, shortly before her 50th birthday. Adamant it was caused by trauma, she resolved to treat it in her own way. Pauline took an alternative approach to healing which also demanded a deep look inside herself. twelve years on and a survivor she is now more determined than ever to help bring about better, less invasive choices for treatment. She has written her story in a book ´And So We Heal´,which tells the adventure in full. (click here to read a review of the book). Pauline´s ´alternative breast cancer treatment plan may not be for everyone; one oncologist threw icon out of his hospital after a patient read it! Anyway, this is her fascinating story:
I was born in England, but began travelling early, as my father was in the army. Following the death of my 3-year old brother, Kenny, in Malaysia, we moved back to England where the family tried to heal this tragic loss. I was 9, the eldest child and I remember the day my parents came home without Kenny, who had gone for a tonsillectomy. Allergic to the anaesthetic, he died in his sleep. Witnessing my parents in this state of shock I somehow had to stand strong, entering this bubble of sorts, pretending it had not happened. Denial is what they call it now - I was burying the grief.
I was a shy child but dreamt of becoming an actress, wanting to inspire people in some way. Acting meant I could transform myself - turn tears to laughter. I longed to go to drama school but the opportunities were not there so, turning 18, I put that dream aside and went travelling. Arriving on the island of Ibiza, a paradise in those days, I worked as a tour guide and had my first romance with a young Spaniard, Javier, who was dreaming of becoming a pilot. Our lives took different paths but after Ibiza we kept in touch with letters. I was learning to be independent, building the character that I would one day come to value most being a survivor.
At 23, Hollywood beckoned its a long story so Ill fast forward. At the Lee Strasberg Theatre Institute I studied method acting (using ones own inner core, transforming it into emotional energy for the character). Finally, I was following my dream! I threw myself into the experience with a strong ambition to succeed.
Looking back, I had naively equated success with fame. I gave it my best shot, making a living with small parts including the voice of Alicia Masters in the Fantastic Four series and as stand-in for top actresses including Meryl Streep, and Barbra Streisand but, after years of chasing the elusive starring role, I grew disillusioned with Hollywood and envisioned a different life.
Fast forward to 1984 Japan, where I lived on a sacred mountain practicing Jyorei, a spiritual healing similar to Reiki. At the inauguration of a futuristic temple with thousands of others, I witnessed a rainbow vibrating around the sun with the sound of a hundred taiko drums. It was the stuff of Hollywood movies - an electric charge surged through my body and I inwardly pledged to help humanity in some way. Returning to Hollywood, AIDS was in the news and people needed healing. My own ambition seemed hollow and I dedicated myself to helping others.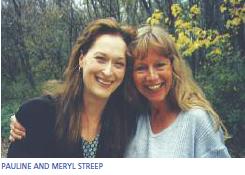 Years later, still involved with small theatre my partner Tom and I studied Shakespeare with Lynn Redgrave and when Meryl Streep requested me as her stand-in on The Bridges of Madison County, with Clint Eastwood, I couldnt refuse. Unfortunately it all came after Toms diagnosis of melanoma cancer, and I found myself on location crying into my diary. It was the last film I ever worked on. I later wrote a book Bridges, A Memoir of Love, about filming and our journey with cancer.
I did my best supporting Tom, researching and implementing alternative therapies including brewing Essiac tea, growing wheatgrass, and giving Jyorei. We went to Mexico on a cancer clinic tour with the Cancer Control Society. Contreras, and Gerson clinics topped my list but Tom chose surgery, chemo and radiation. The cancer spread to his neck and breast. He had a mastectomy when the pain became unbearable, removing lymph nodes, leaving him with one giant arm. Somehow we managed to laugh our way through and I kept a camera rolling, as this was his starring role his swansong.
Toms mother had died of cancer; as a boy he lay underneath her cot crying. Perhaps seeds of grief were sown then as Tom like I had a lot of buried hurt. Tom died before his 45th birthday in 1996 and my life fell apart. He appeared to me in dreams and one day when I lit a votive candle with the word believe on it, I heard his voice saying, You can do this. Since I didnt have the heart for Hollywood anymore and needing a new career, I started painting. It was a miraculous form of grief therapy that helped transform me into an artist. The Chalices of Light, glass votives with inspirational themes, was born and I sold hundreds of them.

Fast-forward to 1999. Although my art was doing well I found it difficult to keep up with the demand, sometimes painting into the night. My immune system was breaking down but I hadn´t recognised it and ploughed on overworking, exhausting my resources physically and financially. When a forest fire came close to burning my house in the canyon and seven deer were impaled jumping a neighbours fence, it was a sign - time to move on.
I returned to England and, upon arrival, found a message on my mobile. It was Javier, my old Spanish sweetheart, thirty years later and his life was falling apart too. His marriage had ended and he was awaiting heart-by-pass surgery in Barcelona. Within a week I was by his side the door to my heart opening again like some Divine miracle. Ironically he too had started painting and had kept all my letters. Reading them inspired my imagination - finally I had my happy ending. I would write a book and inspire others to never stop believing.
BUT...exactly one year to the day of his successful surgery, I was diagnosed with breast cancer; a 2.5 cm tumour. A needle aspiration confirmed malignancy. Knowing what I know now, I would have foregone the aspiration, as I believe this may have disturbed the cells. I later learned a lot from the work of Dr. Ryke Geerd Hamer, who believes that tumours are nature´s way of encapsulating the rogue cells, signalling that something is wrong - avoid rushing to surgery, before boosting the immune system and resolving the original conflict. Hamer himself developed testicular cancer after the shock of hearing his son had been fatally shot. His wife also developed cancer too, thus prompting further investigation. His many thousand case studies showed cancer had developed after patients had received a shock of some sort.
With the horror of my diagnosis I knew I had to venture deep within. Emotionally, I wasn´t in a very good space - the truth was Javier and I still had a lot of wounds to heal between us and he was refusing to speak. It was around the time of the 9/11 terrorist attack and I had witnessed the twin towers blow up on TV when I was in California. Just before this I had accidentally fallen on my coccyx and also received a blow to my right breast.
I returned to England in a state of shock, crying myself to sleep at night when I discovered the lump in my breast. The oncologist was booking me in for surgery, chemo, and radiation but I needed time to do what was right for me. After the inevitable scream, my first reaction was to stock up on fruit and vegetables, eliminating dairy, wheat, caffeine, and sugar. Its horrifying being told one has cancer but by doing this, within a few days, I began to feel better physically and my intuition sharpened, leading me on to discover what was necessary for my healing.

Javier had stopped communicating, and since he was still re-couperating from his operation, I chose not to tell him about the cancer. I thought about him a lot; but this was finally time for me! I was about to turn fifty so I treated myself to a retreat in Andalucia doing yoga, chi gong, shiatsu, hiking in nature and crying to the goats - so much sadness inside me needed release. Slowly I began to appreciate my diagnosis as a gift and this new wellness ushered in a great creativity. Keeping a diary helped document everything; dreams too held important messages and I continued painting angels and glass touchstones with inspirational words to share with others. I was learning to love myself again.
I returned to England full of hope. Detoxification became my mantra and I read voraciously, especially inspiring stories of people taking alternative paths. Now, of course, it is all very well researched throughicon, thanks to Chris Woollams and his team for providing such a goldmine.
I had little money so could not afford many alternative treatments and expensive clinics. I had to use what was on hand and TRUST! My first lifeline was the Wirral Holistic Cancer Centre they have a CANCERactive, Catherine Corner there. They listened empathetically to my story and I began acupuncture, one of the many palliative therapies available. A fountain of information and support, they told me where to get herbs for Essiac tea and even contacted the Debra Stappard Trust who loaned me a juicer for doing partial Gerson Therapy with organic juices and the all important coffee enema, a treasured part of my regime! Referred to a homeopath I injected Iscador (mistletoe). Endless supplements included E3 Live-blue-green algae, Coenzyme Q10, powdered vitamin C, magnesium, potassium, sun mushrooms, barley grass, castor oil - whatever I could afford. Deep lymphatic drainage massage once a week helped my bad circulation, transforming, and energising me and Mother Nature beckoned me to pick mounds of red clover and dandelion leaves for tea, rewarding me with the mother lode of free blackberries. Prayer from many faiths was always accepted and walks in nature bathed my spirit in light. Feeling blessed by the beauty around us is a therapy that costs nothing and is truly effective. I learned a lot from Japanese master Mokichi Okada who healed himself of countless diseases during his lifetime: Gratitude breeds gratitude..Let nature be your guide.
As toxins continued leaving my body there were still some fearful nights, but somehow I always returned to the positive. The truth is a lot of forces were at work helping me and the healthier I became, the more I saw myself as survivor instead of victim. Not only was I going to beat this but I could help others to find their way as well!
I found a new oncologist that I saw every three months and, although I was still refusing conventional treatments, she was very supportive, arranging for blood tests etc. Hospital visits were invariably fear-filled but they offered palliative reflexology to calm me. It was frustrating at times because, although I was feeling so healthy and my tumour markers showed close to normal, the tumour did not appear to be shrinking; and then an enlarged lymph node the size of a pea was found. Still, it was early days and I kept a careful check on everything. As long as I moved forward positively with my mind, and maintaining my regime, I resigned myself to the fact that it may take years.
Unexpected residuals from my Hollywood days meant a few extra adventures. After a week at Optimum Health Institute in California with wheat grass and live foods, I emerged feeling wonderful convinced that this would do the trick but at home I couldn´t keep the regime going. I walked the labyrinth at Chartres Cathedral in France and sailed from Crete to Athens on a powerful pilgrimage to Delphi, baring my breasts at the shrine of Athena; things I may never have done before. It wasn´t easy keeping the regime going whilst travelling but I managed, always finding wonderful local produce and unexpected prayers from strangers. The sheer thrill of feeling the fear and doing it anyway inevitably brought its own reward, and being in charge of my own body was priceless.
As with all good love stories Javier and I found our way back into each others hearts. There was still a major hurt that needed healing confronting this would be key!
Fast forward to 2005: still keeping to the regime for the most part, I even tried Ayurvedic Carctol, but the lump was not shrinking and I grew impatient. I decided to apply an escharotic paste, Compound X, attempting to draw out the tumour through the skin. Salves That Heal, by Ingrid Naiman documents their use and I still maintain their effectiveness under medical supervision but, long story short, I lost my nerve and stopped the process mid-way, leaving some nasty wounds and an angry lump, which began then to grow. An alarm went off inside my head and I knew that I must take action. My subconscious was telling me it was time conflict resolved = lump must go. Once again I trusted that the answer would come.
Fast forward to Clinic Medibio in Malaga and ECT- Electro Tumoral Therapy developed by Professors Nordenstrom and Rudolf Pekar. It involves placing platinum, gold or silver needles in and around the tumour with low grade voltage applied to cook the tumour into a necrotic state that eventually forces its way out, whilst boosting the immune system and balancing the cells. I decided to put my trust in the team and go for it. It was no walk in the park and at times uncomfortable, because I opted for minimal anaesthetic. But the day after each session I had boundless positive energy! It took twelve, 3 hour sessions for the tumour to finally leave my body and a lot of nursing the site, which looked like a crater, as the tumour was by then egg-size. I never had treatment on the enlarged lymph node under my arm, but my oncologist was amazed to discover it had shrunk.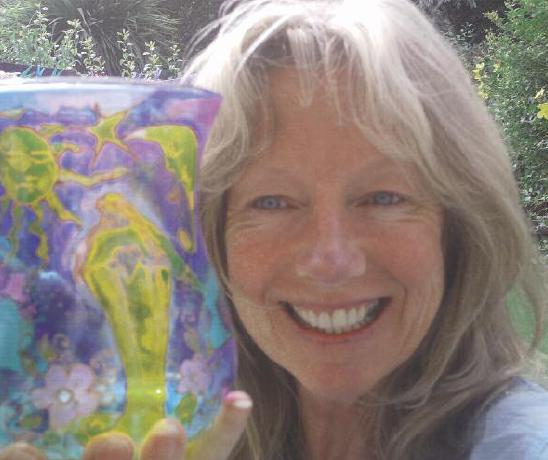 It was a slow process but one I could live with, making it all into an adventure as is my tendency. For the next 2 years, I kept following up with bi-annual visits to the clinic for Papimi, an effective pulse therapy for healing wounds. Returning to Andaluca, where I first cried to the goats, there were no more tears and instead I was able to give birth to my book.
Women´s breasts are designed to nurture. So much of my healing was about the dreams that never came to pass. Writing helped me to reflect on the many phases of my life, finding forgiveness for any failings kept buried in my chest. Having finally finished the book in 2009 I decided to try to live as normal a life as possible treat myself occasionally to once forbidden foods. I still use supplements to boost my immune system and binges don´t last long, as I know I must be forever vigilant with my health.
This journey has made me stronger.